With all of the beautiful fall manis I've been seeing lately, I felt inspired to do my own.  I had gotten the Moyou Mother Nature 07 Plate specifically for fall manis…it just screams fall to me!  So here is what I used for this mani: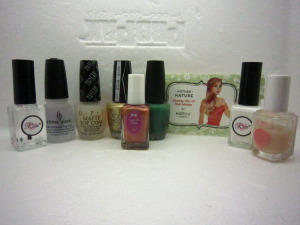 From left to right: Rica Glossy Glam, China Glaze Quick Dry, OPI Matte Top Coat, OPI Love, Angel, Music, Baby, Cupcake Polish Rusting Over a Boy, OPI Don't Mess with OPI, Moyou Mother Nature, 07, Rica Whiteout and Essie Grow Stronger Base Coat.  I used Cupcake Polish Rusting Over a Boy as the base for this mani.  Here is what it looked like pre-stamping: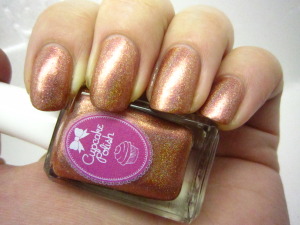 I used Rica Whiteout for the stamp: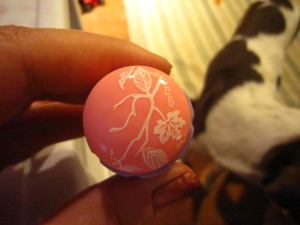 Then once the stamp was dry (it did not take more than a minute), I filled it in with OPI's Love, Angel, Music, Baby and Don't Mess with OPI:
Ignore the terrible picture quality.  My camera is older than my children, and the hubs promises to replace it for me.  He dislike old technology, which is a win for me!  …anywho…I let the polish on the stamp dry completely.  It only takes a few minutes and is the key to success.  Try to apply the stamp before everything is dry, and the wet polish will ooze out and ruin the design, which is incredibly frustrating.  Once I was sure the design was completely dry, I put a coat of the China Glaze quick dry on the nail I planned to apply the stamp to.  I waited just a few seconds until it was tacky, then gently applied the stamp to the tacky nail.  Since I was using a mural plate and picked up quite a bit of image each time, I was actually able to get two nails out of each stamp.  Normally, I wouldn't do that, but I was feeling brave.  It left me with a few stray branches that didn't quite fit, but overall it worked out quite nicely.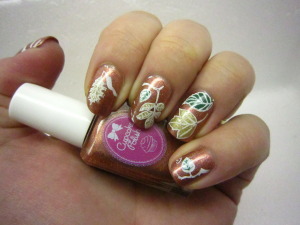 This was all well and good, but it did not feel quite fallish enough for me, so I added OPI's Matte Top Coat.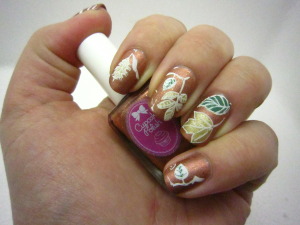 This mani was really fun, but a bit time consuming.  Overall, I was pleased with how it turned out…especially since I went through a glass (two) of wine while doing this mani.  For cocknails, not half bad!
Thank you for stopping by!  I look forward to many more fall manis to come!