So, I was pretty exhausted after my rage fueled mani last night, so I took it easy tonight.  KBShimmer released her new line a few weeks ago, and if you haven't checked it out yet, you should.  Do it!  Do it here: KBSHIMMER!  I bought five of the shades, and they have all been amazing so far.  I've been sitting on this one, trying to decide what to do with it.  Finally, I just decided that I was being an idiot (not unusual).  I didn't need to worry about what to do with it beyond putting it on my nails.  And I'm glad I did.
See?!?!  So pretty!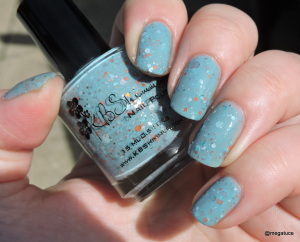 This was outside in the sun.  I figured I'd take advantage of what could be one of the last nice days of the year!
Here is an indoor shot: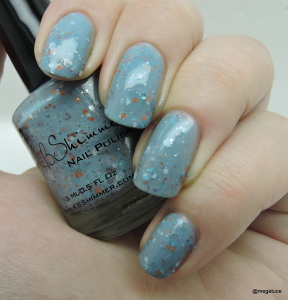 It is a crelly with glitter.  It is a smokey or grayish blue, but in the sun if definitely looks brighter.  It is a very subtle, but pretty color.
And, a gratuitous close-up: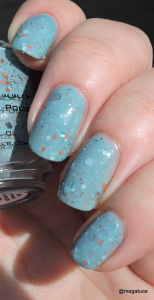 I only had to apply two coats for opaqueness.  It is topped with one coat of Rica's Glossy Glam.  The formula was easy to work with.  It was a little thicker, which is consistent with my experience in generally with crellies.  But it smoothed out easily, and wasn't that sort of gloopy, gloppy, unwieldy thickness.  It was really easy to work with.
This polish was perfect for today.  I wanted something simple, but I didn't want to be boring.  This fit the bill perfectly!
Thanks for stopping by, and come back soon ya'll!