I should have stopped here: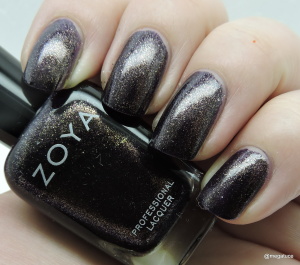 But I didn't.  Of course I didn't.  That is just one color.  One gorgeous color.  Why would I leave it alone??!
Let' start this sad tale from the beginning: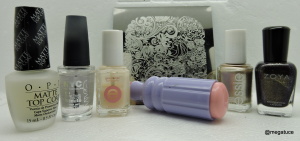 From left to right: OPI Matte Top Coat, NYC In a New York Minute, Essie Grow Stronger, Pueen SE04B, Messy Mansion marshmallow stamper, Essie Penny Talk, Zoya Sansa.
After my Essie base coat, I put down one coat of Sansa.  Yes, that first picture just ONE COAT.  So pretty, right??  Want to see another?  Of course you do: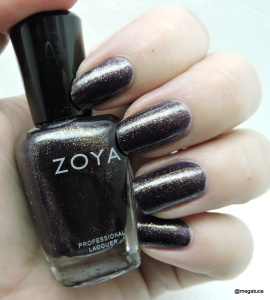 But I couldn't stop there.  No….of course not.  I'm megatuce and must stamp ALL things, EVEN IF THEY DON'T NEED IT!  Argh.
So, enter Essie's Penny Talk.  This is a great polish for stamping.  BUT, not always for me.  I have had some wonderful results with Penny Talk, but sometimes it give me absolute fits.  I think it may be because I don't work fast enough with it.  I work pretty quick, but I have to work lightning fast with this one.  It could just be me.  Very likely it is.
Anywho…I was frustrated and forgot to take a picture pre-matte.  It wasn't too bad.  But I wanted to matte it.  I wanted to matte Sansa so bad, because I knew it would be beautiful.  And it is, as long as you look between my patchy stamping.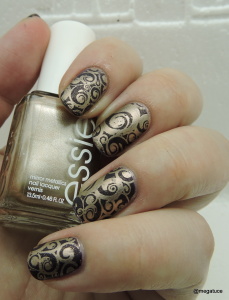 I should note that before I matted, I top coated with NYC to protect the design.  Or at least, that was my intention.  Sadly, some fingers still streaked despite the top coat.  ARGH!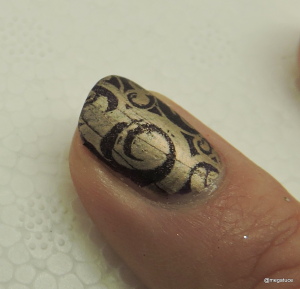 See?  Awful.  I should have used Seche Vite, because it is thicker.  NYC is a good quick dry, but it on the thinner side.  I don't know that Seche would have saved this, but it couldn't have hurt.
This was just an all around fail.  But that's okay — hopefully someone will read this, learn from my mistakes, and make a gorgeous mani!  Plus, there's always tomorrow, and I already have a good idea kicking around for my next mani, so stay tuned!
Thanks for stopping by!