So, while I in the midst of an epic bedtime battle with my daughter last night, I got notification that someone had tried to hack my awesome website.  Needless to say, that did not improve my mood.  I mean, I know I am an absolute delight, but I am fairly certain no one wants spam from my site.  The hubs assures me that this is very common, and that I should not take it so personally.  But I am.  Leave my happy little corner of the internet alone dammit!  (Janet).  So, anyways, I took my frustration out on my nails.  And when I'm pissed, I do rainbows.  Last night, it was Fuck You Rainbows.  With glitter.
Here's what I used:

Left to right: China Glaze quick dry, OPI Glitter Off Base Coat, Essie Grow Stronger, OPI Matte Top Coat, Rica Glossy Glam, OPI My Voice is a Little Norse, piCture pOlish Badass, Moyou Punk 04 plate, my Messy Mansion marshmallow stamper, MdU Blue, MdU Lemon tree, MdU Pale Rose, MdU Reddish, Rica Sugar Plum Wings, and Rica Mellow Yellow.  Phew!  It was hard to get everything into one picture!
I started off by putting down a coat of Glitter Off.  I ended up doing it on all my nails, which I didn't need to do, but I wasn't paying attention, so there ya' have it.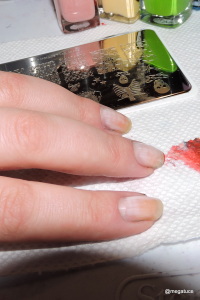 Nothing more fun than watching glue dry, eh?
Once it did dry completely, I put down a coat of Essie Grow Stronger on top, then started in on the accent nail.  Despite being super aggravated, you'll notice that this was a tea kind of night.  Wasn't particularly calming, but it was tasty.
This is just one coat of Badass: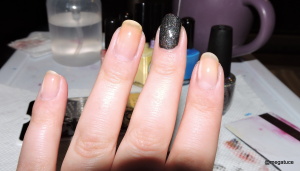 Pretty badass, right?  Sorry for some of the shitty pictures, I was tired and too lazy to keep going to my light box for good pics.  But you get the drift.  Anywho, while that dried, I added two coats of My Voice is a Little Norse to the remaining fingers.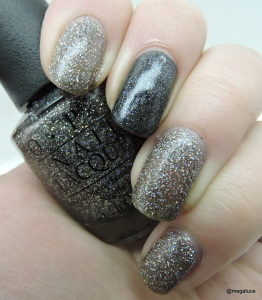 (LOOK!  I got up for this picture!)  It is hard to capture the full glitter effect of the polish, but I tried.  And, in trying, I totally jacked up my index finger on my right hand.  So, I redid that finger, then set into stamping.  I put drops of color over the image, then scraped.  I suck and forgot to take a picture of what it looked like before I scraped and picked the image up, but I will do that the next time I do a multi-color stamp!  Here is post-scraping, after I picked up the image: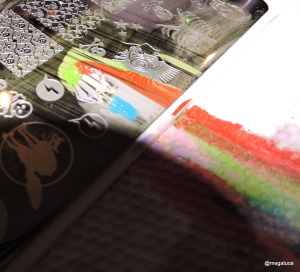 Pardon the shadow, but I love this pic.  Middle fingers and smeared rainbows.  Cracks me up.
So, after cackling about my plate shitting rainbows for a while, here is what I ended up with it: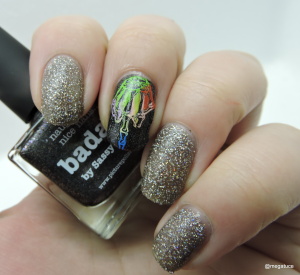 I wanted to matte the middle finger on my middle finger, though, so I did: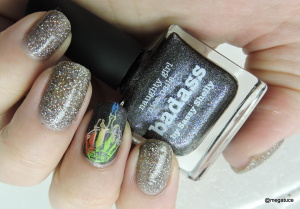 And that was the finished product.  It was a bit messy, and not nearly as crisp and clean and I usually prefer, but it reflects how I was feeling last night.  And, it amuses me.  Something about putting sparkling rainbows on my fingers tends to be a good outlet for my anger.  Better than reaching through the computer and strangling the asshat who pissed me off, I suppose!
Anywho — Thanks for stopping by!  Stick around, I may be headed back to work full-time, which means there will probably be an uptick in vulgar, frustration fueled manis.  Oh, and probably some professional ones too, which can be fun too!