Happy Sunday…?  The weather tomorrow is calling for a chilly day, so I am busting out my favorite purple sweater.  What goes with my favorite purple sweater?  Purple nails, of course!  And it is the perfect opportunity to try out one of my new KBShimmer acquisitions: Hugs and Wishes.
Here's what I used tonight:
From left to right: Mundo de Unas Violet, KBShimmer Hugs and Wishes, Moyou London Kaleidoscope 06, my stamper with Messy Mansion's colored marshmallow head, Rica Glossy Glam, Essie Grow Stronger, and China Glaze quick dry.
And, just for shiggles, here is what my setup looked like BEFORE I got started.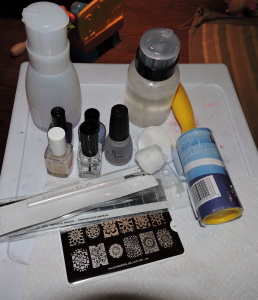 I started off with a base of Hugs and Wishes.  Two easy coats.  I am really happy with all of the polishes I bought from her fall line.  They have all been easy to work with and are beautiful colors.  I have two more to use from the collection, but I may end up purchasing the rest of the collection, because I love them so much.  Even if not, I may purchase a few other crèmes from her other lines, as I tend to gravitate to crèmes more often than anything else.  Anywho…here's how my base color turned out: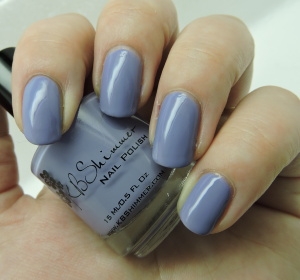 This was two coats of Hugs and Wishes, with one coat of China Glaze's quick dry on top.  I usually top the base with a quick dry before I stamp to minimize the risk of smudging the base.
I can be pretty messy when I really get into a mani: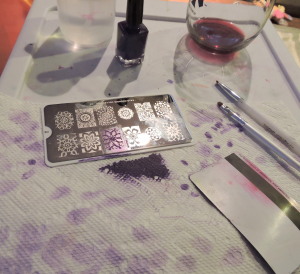 Several thing to note in this picture.  The first, and most mundane, is that I have two clean-up brushes out.  If anyone is actually interested in such a thing, I can write a more in-depth post about how I do plate and nail clean-up as I stamp, but the gist is that I use a cheap-o ELF brush to clean my plate and a Sonia Kashuk brush to clean-up my nails.  I am super hard on my clean-up brushes, and my Sonia Kashuk has held up well since I got in two months ago, but I will probably need to replace it soon.  I may try out some different versions, but I can say I have been very happy with how the Kashuk has worked for me.  Secondly, you'll notice my nearly empty wine glass.  My nail time almost always includes either a glass (two) of wine or a cup of tea.  Tonight – it was a glass (two) of wine.  Yum!  But, I digress….
I am happy with how the finished product turned out: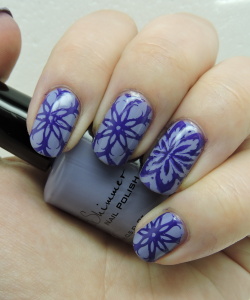 Although I had a tough time getting a good picture.  The glare from my lightbox can make pics tough sometimes.  This is the second one I've made, and I keep improving on my design.  I think I'll be reworking my design again soon to try and minimize glare.
Thank you for stopping by!