how to order lisinopril So, Halloween is tomorrow and so is the last day of #BHBSpooktober!  The theme is pumpkins or masks, and I decided to go with pumpkins.  Glow-in-the-dark pumpkins to be exact!
source site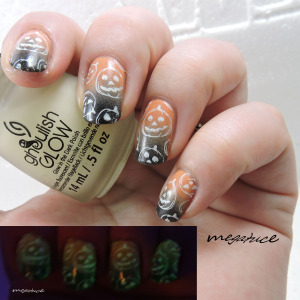 can you buy cipro over the counter
If I am being honest, I was totally going to phone it in on this mani.  I wanted to go play with my Lucky Lacquer polishes some more.  So, I originally did this: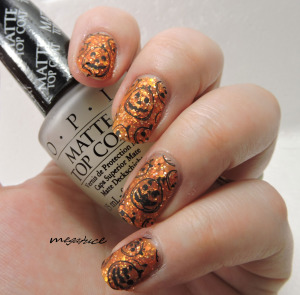 Yeah.  Pretty bad.  The stamping is terrible.  And then I was all "Hey!  I'll matte it and it will look as cool as that glitter polish Jeninthemorning just matted!"  No.  No it won't.  So, after photographing, this came off and I was still going to do something different.  Then I remembered that there were still a ton of things I had wanted to try for Halloween, including an orange and black gradient and glow-in-the-dark.  So, I buckled down and got to work.
Tangent Time!  I know Halloween is tomorrow, but if you need some inspiration, check out Jeninthemorning's work at her blog or on IG.  She has absolutely killed the Halloween mani game this year!
Back on topic: Here is what I used to create a mani that does not look like a hot mess: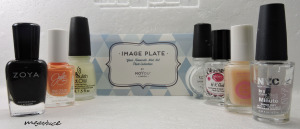 From left to right: Zoya Willa, Julie G Old San Juan, China Glaze Ghoulish Glow, Moyou London Festive 15 (the Halloween plate), Konad white, HK Girl, Essie Grow Stronger, and NYC In a New York Minute.
Tangent Time (again!): I was late to the China Glaze Ghoulish Glow party, which was super dumb on my part.  Generally, China Glaze and I do not get along, so I opted earlier this month to get Sinful Colors' glow-in-the-dark polish.  Big mistake.  Or, at least, $0.99 mistake.  Technically, it glows.  But not well, and not long.  I had seen a few reviews of China Glaze's version, and finally gave in.  I wish I would have done so earlier!  It worked well.  It did have a matte finish, but top it with your top coat, and you get a shiny finish and the glow.
Back on topic: I started with Grow Stronger, then put down one coat of Old San Juan: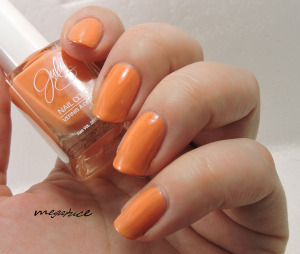 This is just one coat, so there are definitely some noticeable issues, but it gets the job done.  As soon as it was dry, I started in on the gradient: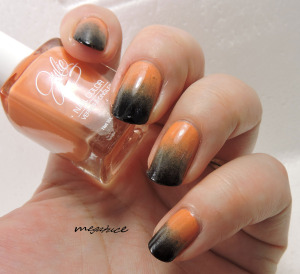 I kept the make-up sponge wet and applied Old San Juan and Willa.  Keeping polish on the sponge, I dabbed the colors over my nail.  After the first pass over each nail, I did a second.  This was topped with one coat of NYC In a New York Minute to help it dry before I started stamping.
And once it was dry, I used Konad white to stamp my pumpkins: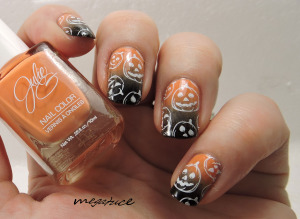 In this pic, they were also topped in one coat of HK Girl.
Once all of that was dry, I topped it with a coat of Ghoulish Glow.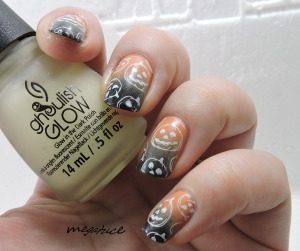 Ghoulish Glow gave the nails a matte effect, which I was totally digging, except they were not drying fast enough and I had to get ready to pick up my kiddos.  So I added a coat of HK Girl on top.  I did not get a pic of that, though.
I had to wait for it to get dark so I could get a good picture of the effect: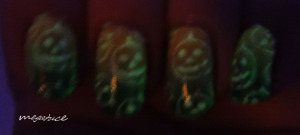 I have no idea how some of the amazing nail artists I see can get such wonderful glow-in-the-dark pictures.  After several tries, this was the best I got.  Not terrible, but I definitely need some practice!
My son was super excited to see my glow-in-the-dark nails, too.  He loved them, but I suspect he will be very disappointed when they don't like his way down the sidewalk tomorrow for trick-or-treat!
Thanks for stopping by!