Apparently I am really feeling the graveyard nails this October!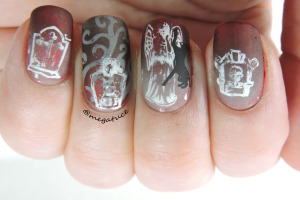 I have had an idea to try distressed nails for awhile now, and finally got around to trying it tonight.  I decided to just kind of go for it, and use the same sort of techniques I would use to distress furniture.  I am more or less happy with how they came out, but I would change a few things if I did it again.  Read on to find out!
Here is what I used:

Konad Black, HK Girl, Rica Whiteout, OPI Matte Top Coat, Moyou London Gothic 01 and 07, make-up sponge, OPI French Quarter For Your Thoughts, OPI German-icure by OPI, and Zoya Carmen.
Earlier today, I put down two coats of Carmen: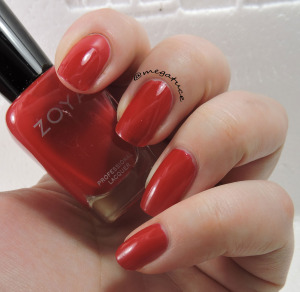 It is a gorgeous red with a good formula.  But, if you have Sooki, you don't need this one.  I have Sooki, but I had to have this too, since my daughter's name is Carmen!
This evening, I decided that I felt like doing another gradient.  I have been doing a ton of gradients lately.  Not sure why, but I am having fun with them.  I used a very wet make-up sponge with OPI French Quarter and German-icure to create the gradient on my nails: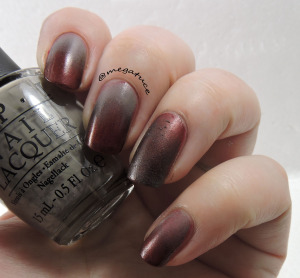 Once that was dry I started to stamp the gravestones.  I got really excited about distressing them, so failed to take a picture of my hand before I distressed.  BUT, never fear, I remembered before distressing the last nail!  Here is what it looked like: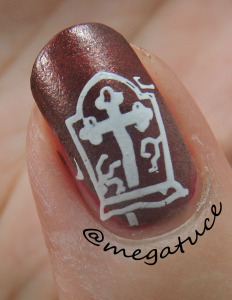 Ignore the hot mess of my cuticles — I did not moisturize before this picture, so I know it is kind of gross.  Also, I know the stamp isn't perfect.  Who cares?  I am going to mess with it anyways!  That was the beauty of this manicure — no need to be neat.
I used a buffer to gently buff some of the white off of the nail.  To do it again, I would probably get a small piece of fine sandpaper to use, since I think it would allow for a bit more control.  Once everything was stamped, I add a quick dry top coat to seal the design.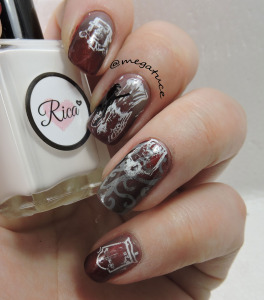 But I thought they would look better matte, so I added a matte top coat: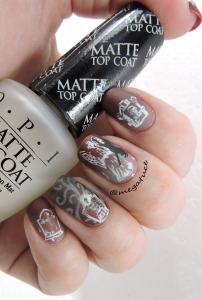 You may be wondering what the black thing on my middle finger is.  It is a black cat.  I had zero ideas for black cats for #BHBSpooktober, so I decided that maybe a black cat would look kind of cool reaching up to touch the head of a distressed statute.  I wasn't exactly right, but oh well: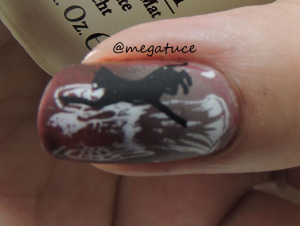 It might have looked better had I put the matte on first, then stamped a shiny cat on.  Oh well.
These nails turned out okay: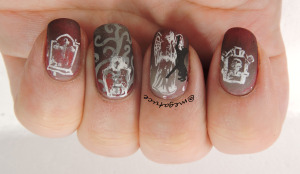 Thanks for stopping by!