So, the fabulous @polished.plumage has created a few manis using Zoya Pixie Dust polishes to create a 3-D sort of effect.  I thought they looked really cool, so I decided to give it a try!  I used some nail vinyls from Glam My Mani that I got a few weeks ago and just went for it: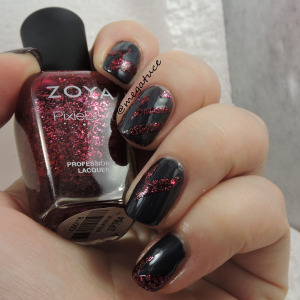 Yes, I know this picture kind of blows.  It was really hard to get a good picture of the design without a terrible glare.  I have an edited version at the end, so you can get a better idea of what it looks like!
Here is what I used: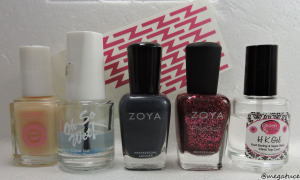 From left to right: Essie Grow Stronger (new bottle!), Oh So Wet, Zoya Geneviev, Zoya Arianna, HK Girl and, in the back, a sheet of nail vinyls.
I first put down a base of Grow Stronger, then two coats of Geneviev, which is freaking gorgeous.  WHY HAVE I NOT USED THIS COLOR YET???  I was sort of iffy on the formula, but I love the dark gray color.  This is two coats topped with OSW quick dry: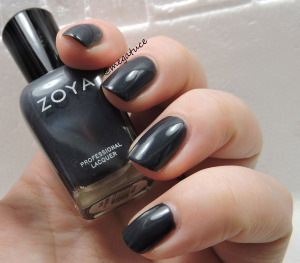 I almost stopped right there because I love it so much.  Such a simple color, but I really like it.
But, since I didn't stop, the post is going to keep going too.  Once Geneviev was completely dry, I started in with the vinyls.  I wanted to take pictures of my process, but I am still learning how to use them, and was trying to move fast so that I did not ruin a design.  I just placed them wherever I wanted, playing with the design.  I made sure to press the vinyl down completely and doubled checked my edges — loose edges have ruined more than one design for me.  I painted Arianna where I wanted it to go, then immediately (but oh-so-carefully) used tweezers to pull the vinyl off my nail.  Here is what I was left with at the end: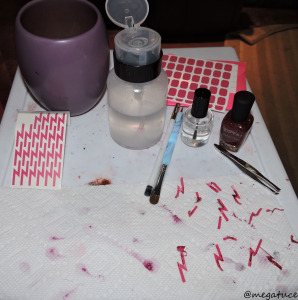 (it was a tea night)
This is pretty clean for me.  Typically, my stamping manis make quite a mess!
Here is an edited photo of this mani: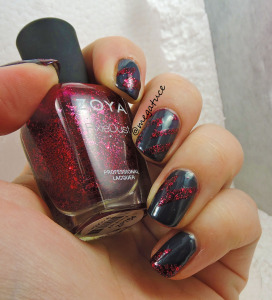 I played with the colors and lighting, just so I could show what the design actually looks like.  I love that the lightning bolts are raised.  It just lends a little something different, which is always fun.
Thanks for stopping by!