After all of the basic-color manis I have been doing, I needed a little color in my life.  BUT, I didn't want summery looking nails.  So, here is what I did: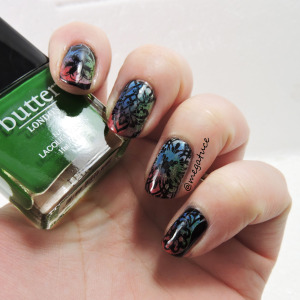 I have really been on a sponge kick with gradients and such.  These turned out pretty cool.  Here's what I used:

From left to right: OPI Coca-Cola Red, Cover Girl Out of the Blue, Loreal Flashing Lilac, Butter London Sozzled, Moyou London Gothic 11, OPI My Vampire is Buff, Essie Grow Stronger, HK Girl, Konad black.
I started with a coat of Grow Stronger.  Now, I'm going to head off into a tangent: I love Grow Stronger.  It has really worked well for me.  When I started using it, all of my nails were peeling and I was having many more breaks.  The majority of my nails are much improved.  The exceptions are my index fingers.  My right is still peeling terribly and my left does so on and off.  I assume it is because they are my most used fingers, but I think I am going to have to explore other options to see if I can stop the madness!!
Anywho…back to this mani, which started like this:
One coat of My Vampire is Buff.  Yes, it looks terrible.  No, I didn't care, because immediately after I took this picture, I did this:
…And, this is where I started thinking I had made a mistake going in this direction.  This looks like a mess.  One big mess.
To create this mess, I used a wet sponge, and added one dot of green, purple, blue, and red, then sponged on my nail.  I kept the sponge wet, and added polish as needed, generally every 1-2 nails.  I went over each nail twice, to try and ensure the colors were vivid, since I knew I was going to stamp black over them.  The end result here, though, is more like one of my beloved unicorns shat on my fingers.  That rainbow definitely did not come from anywhere else.
But, being too lazy to start over, I moved on to add the stamping.  I used Moyou London's Gothic 11 plate and oh my goodness is it good!  It is etched so deeply.  I was really surprised.  Moyou has consistently amazing quality, but this plate was especially awesome.  If you are considering buying it, you won't be disappointed.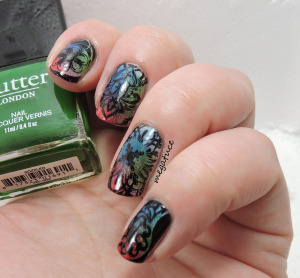 And that is how they turned out, topped with two coats of HK Girl.  Once top coated, the colors really popped.  I had originally considered matting this, but I think it would have turned out a bit drab.  Overall, I'm quite happy with a little gothic pop of color in my life!
Thanks for stopping by!