I'm a day early again, but I was feeling uninspired, so decided to go for a simple spider web.  I tossed around the idea of a more complex design with glow in the dark spiders webs and such, but then decided that sometimes, less is more.  Here is what I ended up with: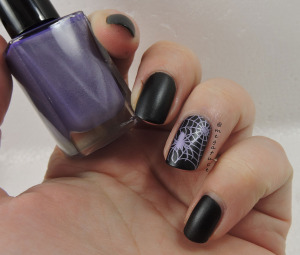 Super simple!  Only three polishes tonight: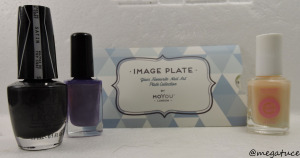 From left to right: OPI 4 in the Morning, Mundo de Unas Metallic Purple, Moyou London Festive 15 (The Halloween Plate), and Essie Grow Stronger.
I started with Grow Stronger, followed by two coats of 4 in the Morning: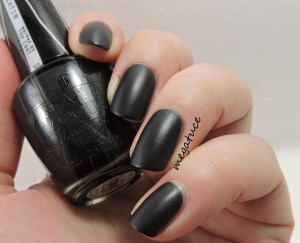 I love this polish.  I love dark polish in general, but this polish has such a softness to it.  It doesn't cut hard like a standard black, but isn't quite grey, either.  I really love the look of this polish.  What I hate is that I can never make it last.  I dinged this mani up terribly in less than an hour, because I did not top coat, because I was too busy gazing at the prettiness.  Sigh.
Once this was dry, I stamped with Metallic Purple: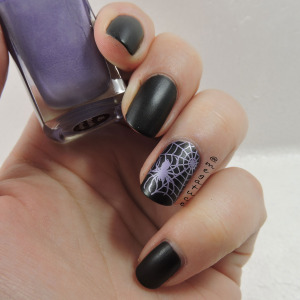 I originally had two plates out and was going to go crazy, but I loved how it looked just like this.  The metallic on the satin looked perfect.  I am really happy with how this turned out!  Sometimes, less really is more!
Thanks for stopping by!