So, it kind of looks like a unicorn threw up on my nails, but I love it: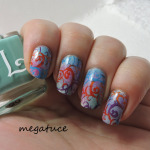 To create this, I sponged a rainbow on, then stamped a rainbow over that.  Here is what I used:

From left to right: Lucky Lacquer's Spring Charm, Dhalia, Teal We Meet Again, and Mint Daisy; OPI My Boyfriend Scales Walls; Essie Protein Base; Pueen SE03B; HK Girl; Mundo de Unas Reddish, Purple, Geranium, and Turquoise.  Quite a few polishes in this one!!
I started, as usual, with a base of Essie, then added one coat of My Boyfriend Scales Walls: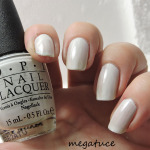 Kind of looks a mess, but that's okay.  I am going to sponge right over it!
I used a wet make-up sponge to dab on the four Lucky Lacquer polishes.  This took two passes on each nail: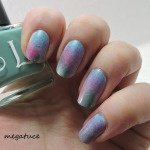 Looks sort of like a watercolor to me.  It was even more subtle after the first pass.  I will definitely break these bad boys out for a delicate spring mani like this next year!
Once this was dry, I started in on the stamping.  I dabbed a tiny amount of the four MdU colors on the plate, then scraped.  I used my Messy Mansion marshmallow stamper and stamped each nail.
This is how it turned out: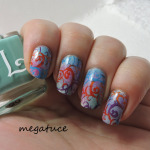 I don't know why, but rainbows amuse me so much.  You just CANNOT be sad with a rainbow on your nails!
Thanks for stopping by!!