I Love Nail Polish just had a wonderful sale that I couldn't help but take advantage of.  One of the goodies I picked up was, of course, MEGA.  With a name like that, I had to get it, right??  I figured the awesome holo-ness of it would be perfect for some rainbow nails in anticipation of my kiddos' 1st and 4th birthday party tomorrow!  Here is what I came up with: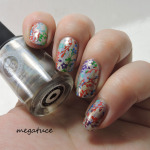 Rainbows ON rainbows!!  If I love anything, it is rainbows!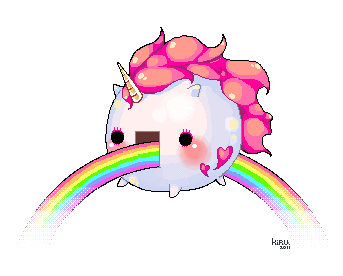 Especially when they come with unicorns!!
Here is what I used tonight: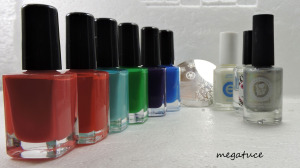 From left to right: Mundo de Unas Tulip, Reddish, Aqua, Green, Violet, Blue, qGirl 016, Essie Protien Base, HK Girl, ILNP MEGA.
I started with Protein Base and two coats of MEGA: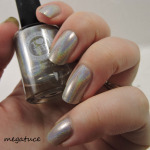 So holo-y!  No top coat here.  Once it was dry, I used the MdU polishes to stamp the rainbow flower pattern.  To do that, I placed a very small dab of each color I wanted to use on the plate, then scraped.  With MdU, a little goes a long way.  After scraping, I used my Messy Mansion marshmallow stamper to pick up the image and place it on my nail.  Easy peasy!
I topped it all off with HK Girl.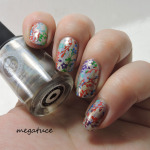 Easy rainbow nails for tomorrow's party!
Thanks for stopping by!