Well HI!  It has been far too long since I've written.  I have good reasons…sort of.  Between the general hubbub of life coupled with the holidays, I also started creating prototypes for my upcoming stamping polish line.  Want a sneak peak?  Of course you do!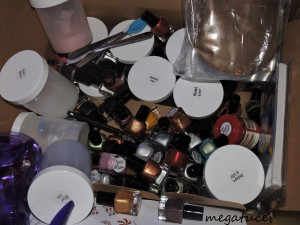 My daughter got into it tonight, so the bottles are a bit of a mess, but that is some of what is kicking around.  I have about two dozen prototypes I'm narrowing down for release.  I put a few of my prototypes into action on tonight's New Year's Eve Mani: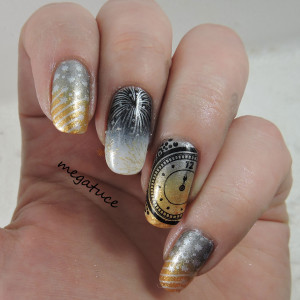 Let's ring in the new year!!
Here's what I used: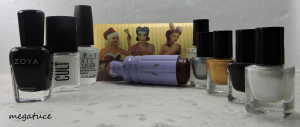 From left to right: Zoya Willa, Cult Cosmetics El Porto, OPI My Boyfriend Scales Walls, Moyou Festive 05, M Polish Silver, Gold, Black, and Pearl White.
Tangent alert: my line will be called M Polish.  My husband suggested it as a joke, but it really works.  My initials are MP.  It kind of works!
Back to the mani.  Here's how I started:
One coat of OPI MBSW.  I just put that down as a base before I started the gradient: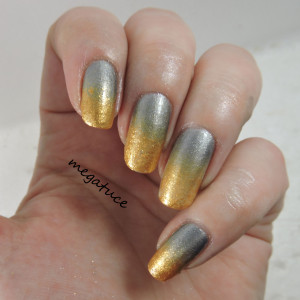 So, yeah…that doesn't look like the base of the mani I posted above, does it?  Nope…nope it isn't.  I was going to use vinyls on this mani, but I am not a patient person.  I did not wait nearly long enough before putting my vinyls down and they pulled up the polish underneath.  ALWAYS wait for your polish to be COMPLETELY dry before you lay your vinyls down.  Yes…I yelled that.  I know that rule, but I always break it.
So, the mussed polish came off.  I was in a rush to finish, so I failed to take pics as I went, but here's what I did: I laid down a base of El Porto, then created the black and white gradient using El Porto and Willa.
Once I replaced the mussed nail with a black and white gradient and topped it all off with Seche.  Of course I failed (again) to take a pic.  But once everything was dry enough, I moved on to stamping.  I used my own black stamping prototype for the clock.  The index and pinky are using my white pearl prototype.  I used a gold and silver prototype on my middle finger.  Everything was topped off with Seche.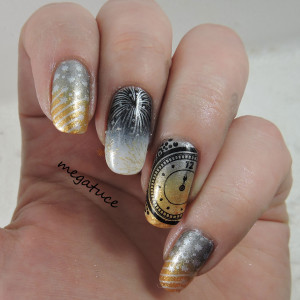 And…you may have noticed in my supplies pic that my lightbox is a little jacked up.  Yeah…that happened while I was MIA too.  My son and his favorite dinosaur did this:
My DIY lightbox is a styrofoam box.  My son and his dinosaur went all Godzilla on my box.  It is an absolute mess.  I had picked one out to buy, but I think I am going to wait until we move and I have a dedicated space for my materials.  Until then, a new box is waiting in the wings and as soon as I get the time, it will become my new light box!
So, that's what I've been up to!  I hope everyone had a wonderful holiday season and has a fantastic New Years!  Thanks for stopping by and I can't wait to talk to you again soon!