http://crazybitchmagazine.com/forums/forum.php Another playoff week, another Packers mani!  This time with watermarbling and glitter placement.  It is gaudy, but full of team spirit!
Misoprostol online pharmacy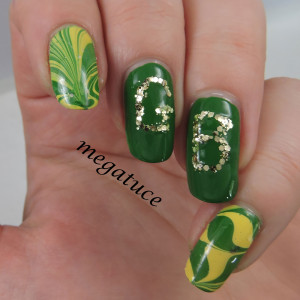 I'm pretty pleased with how my pinky marble came out.  But the index got a bit muddled.  That's okay…practice, practice, practice!!
I didn't take a what-I-used picture, but here's the list: Butter London Sozzled, Sally Hansen Mellow Yellow, Essie Rock at the Top, Essie Protein Base, Seche Vite, OPI My Vampire is Buff.
After I put down a coat of Protein Base, I put down two coats of Sozzled on my middle and rings fingers and one coat of My Vampire is Buff on my index and pinky.  Then I added the latext around my index and pinky for easy clean-up.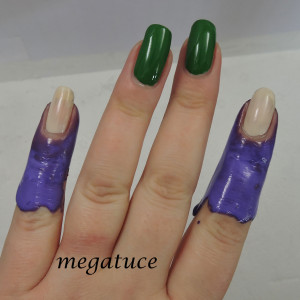 For the watermarble, I added drops of Sozzled and Mellow Yellow to the water, used a toothpick to make the design, dipped, then used a q-tip to remove the excess polish from the water.  After I pulled my finger out, I used tweezers to remove the latex and was only left with minimal clean-up around my cuticles.
Once the marble was done, I set in on the glitter placement.  I must have been insane.  I do not have the patience for glitter placement, and I always seem to forget how tedious it is.  I put some Rock at the Top on a piece of foil, and fished out bits of glitter to add in a "G" and "B."  Once that was added, I topped everything with Seche!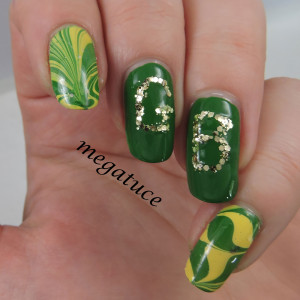 Thanks for stopping by and Go Packers!!