Hi there!  I'm sure everyone is gearing up for New Year's parties tonight, but I'm going to share my peacock gradient mani and then I'm hitting the sack!  At least, that's the plan.  In reality, I'll probably get side-tracked looking through blogs and IG then BAM!!  It'll be midnight and I'll be exhausted all day tomorrow again.  Totally worth it.
So, enough jabbering.  Here is my peacock mani: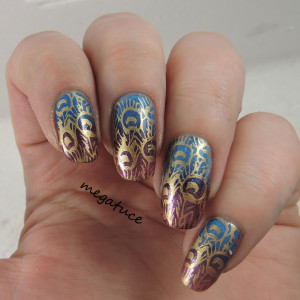 I'm a fan of this one.  So much so that I forgot to take a picture of what I used.  But I will fill in the details as I go.
First, I started with one coat of OPI's My Boyfriend Scales Walls just to lay a foundation.  MBSW is one of my favorite nail art bases, because it isn't a stark white.  I think it usually provides a nice contrast.  Here, though, I covered it up.  It looked like this before I covered it: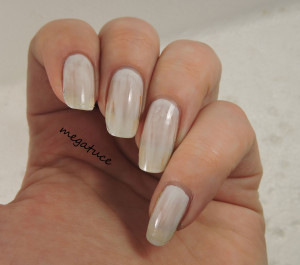 When I don't cover it, I always use two coats.  It is (obviously) not a one coater.
Once MBSW was dry, I sponged on a gradient of OPI Yodel Me On My Cell and piCture pOlish Moscow: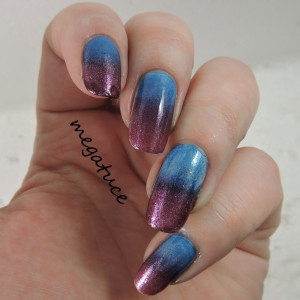 I use a damp non-latex make-up sponge to create my gradients.  This one looks a little wonky in some places, but since I was stamping over it, I wasn't too concerned.
I added the peacock stamp using Messy Mansion plate 14 and my own polish is Apricot.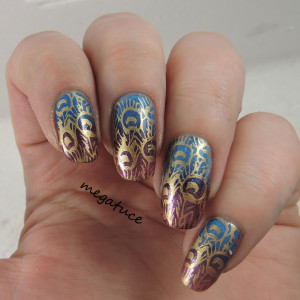 This is topped with a coat of Seche.
Apricot has made the initial cut and will likely head out to my testers for their opinions soon.  So it is possible this one may be headed for my first release, but I'll probably switch the name up!
Thanks for stopping by!  Stay tuned for some more gradients coming up!