Howdy!  Today I have a semi-successful watermarble to share!  Let me start out by saying that I am absolutely terrible at watermarbles.  Just awful.  But, I was inspired by Pish.Posh.Polish's recent blog tutorial to give it another whirl.  And, I picked colors based on her recent black and white mani.  Hers was so super classy.  Mine came out a bit more…well…klassie: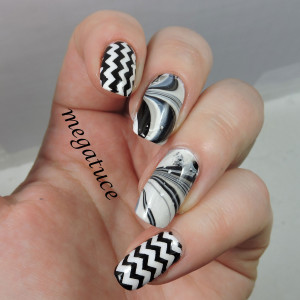 Yeah….I got a little carried away.  But that's okay…I call this a win because I got somthing resembling a watermarble to work!!
I used Zoya Willa, Barielle Going to the Chapel, and vinyls by TwinkledT.
I started with two coats of Going to the Chapel: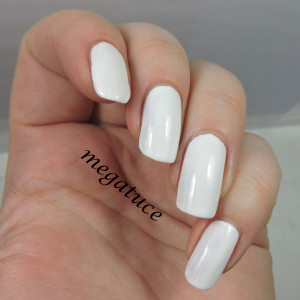 As far as white polishes go, this is a pretty good one.
I topped my index and pinky with seche to help them dry faster so they would be ready for the vinyls whenever I got around to them.  Then, I started in on the watermarble.
I added the polish to the water and let it spread.  Then I used a toothpick to create the design.  Here's what it looked like: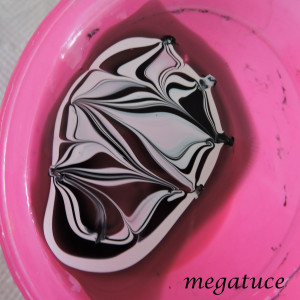 I had the spot I wanted to use all picked out.  Then my dogs bumped into my table, and I was left with this: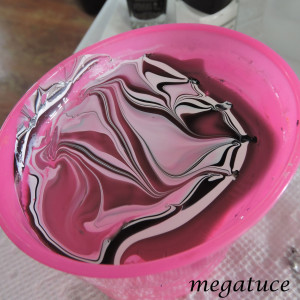 Not so great.  So, I started over.  No biggie.  Here's what it looked like after my first finger: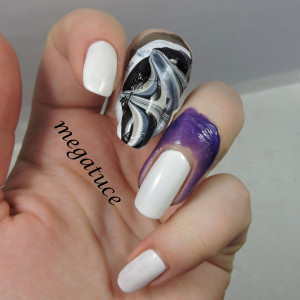 A total mess.  But under that mess is liquid latex (which is the purple on my ring finger).  Once I was done dipping, I peeled the latex off and was only left with a little to clean up.  Here's what my two middle fingers looked like after they were both dipped and cleaned: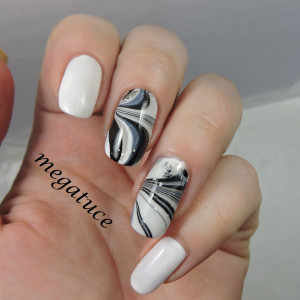 Not too terribly shabby.  I mean, they don't look as good as Pish's, but it is a HUGE improvement over anything I've ever been able to pull off before!
Now, if I was classy like Pish, I would have added some black dots to my index and pinky and then put the polish the hell down.  But no.  I love her chevrons so much I just had to do some.
I pulled out my TwinkledT vinyls.  You can check out what she offers here.  I am a really big fan of her vinyls.  They fit my super curvy nails better than traditional vinyls.  Plus, she has some awesome designs.
For this mani, I used the small chevrons.  I placed them, painted Willa over them, then quickly removed them.  End result: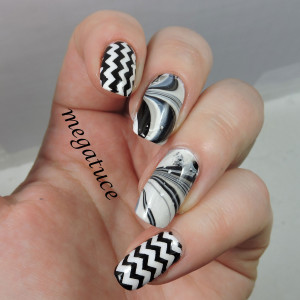 It is a little busy, but hey — I watermarbled!!
Thanks for stopping by!