Hello!  This is my first blog post, so bear with me while I get my bearings!  I figured the best thing to do would be to start out small, with a pretty standard megatuce mani.  I just picked up a few of the polishes in the new line by KBShimmer.  I used How You Dune? as the base of this mani.  It was opaque in one coat and the formula was wonderful.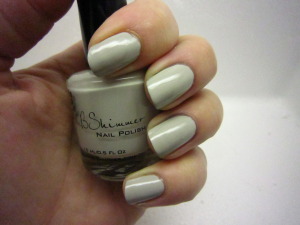 After I put my base down, I opted for some stamping.  I recently purchased some stamping polishes from Mundo de Unas.  After a bit of indecision, I opted to stamp with MdU Red using my Moyou Suki 06 Plate.  The design came out reasonably well, but the red stained the skin around my fingers terribly: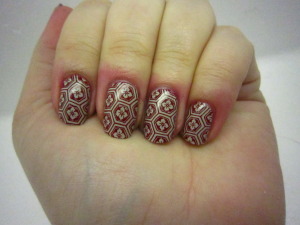 Thankfully, a little toothpaste cleared the stain up, and my nails are minty fresh clean!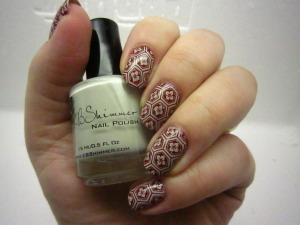 Thank you for stopping by, and I hope you will stick around to see what other nonsense I come up with!