I've been itching to use OPI's Germanicure for awhile, and I finally made it happen.  Here is what I came up with: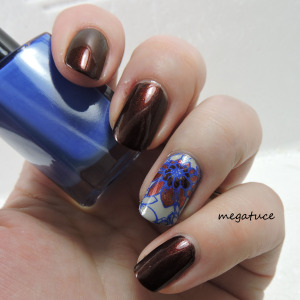 Something a little different with the blue, but I like the way it came out.
Here is what I used:

From left to right: Zoya Kym, OPI Germanicure, Moyou London Pro 06, Mundo de Unas Iris, KB Shimmer How You Dune?, and HK Girl.  For whatever reason, I forgot to grab my base, which was, as usual, Essie Grow Stronger.  I also used two stampers: my Wistonia XL and my Messy Mansion marshmallow.
The first thing I did was stamp the image I wanted to work with, so that it could dry before I filled in the image.  Here's how that looked: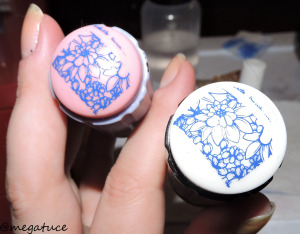 While those dried, I painted Grow Stronger followed by How You Dune? on my ring finger and Germanicure on the other fingers: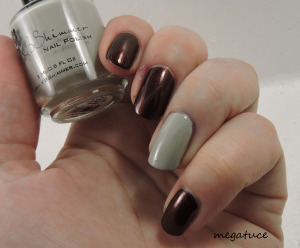 While my nails dried, I carefully filled in the image on my stamper, which was dry by now: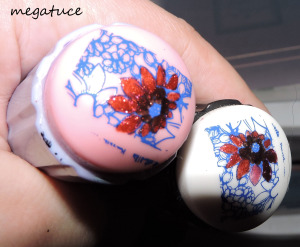 You can see that on the white stamper, I tried a few different colors before I settled on Kym.  I wanted something that was similar to Germanicure, but lighter.  Kym worked for that.
I waited for the images to dry completely, then I added a coat of Oh So Wet on my ring finger (I clearly dropped the ball on my "what I used picture" because I forgot that polish too!).  I let that dry a little, but while it was still tacky, I placed the stamp on my nail.  When you do that, you must be very gentle so that you don't make the image smoosh, slide, or do any other number of super obnoxious things.
Once the stamp was placed, I topped each nail with a healthy coat of HK Girl.
It looked a little different with the blue, but I wanted a contrast to the dark polishes, and I think that worked.
Thanks for stopping by!