Happy Thursday!  I'm here with a quick post about the Bestie Triplet Chalkboard Nails I did!
Warning – Sappy content ahead:
I feel exceedingly lucky to have stumbled into the little piece of internet nail heaven where I met @ineedamani and @thedotcouture.  The ladies I have met are wonderful enablers, insanely supportive, and ridiculously talented.  They pick me up on my bad days and have enough charity to laugh at my nonsensical jokes.  If you are looking for two more talented ladies to follow on IG, definitely check these two out.  Their work is insane!  And @ineedamani has some sneak peak swatches of M Polish that put mine to shame!
So, when @ineedamani and @thedotcouture suggested Bestie Triplet Nails, I was SO on board!  Here's how they turned out: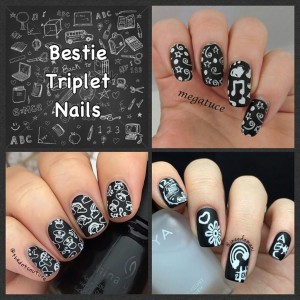 Pretty fun, right?  I love chalkboard nails.  You get to have such fun with them and add in child-like doodles.
I've posted about them before and they are super easy, but here's a quick recap: put down a black base; stamp in white; top coat; matte coat; DONE!
Here's a close-up of mine: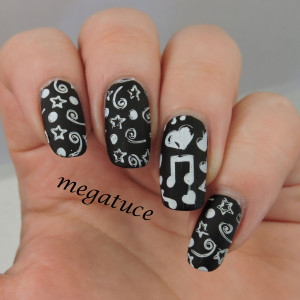 I was testing a new stamper (post coming on that baby probably next week!), so they are a touch patchy, but overall I love them.  You can't dislike something so childish and fun, right?!
I do feel I should share a few other tidbits: my blogs aren't as frequent because I've been burying myself in setting up M Polish.  It has totally become a second job and is taking up a ton of my time, but is totally worth it.  Is anyone interested in reading about the process and getting sneak peaks of the polish behind the scenes?  If so, I'll start adding those in!
Thanks for stopping by!