So, I have had the damnedest time lately coming up with a design that I was happy with.  Last night, I finally ended with something I was happy with: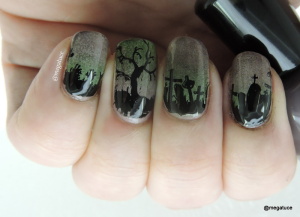 Honestly, I think the problem is my job.  I'm working more, which leaves less time for daydreaming and fully conceptualizing designs.  Obviously, my priorities are all screwed up.  Family, work, then nails?  That is just backwards, right?  Right.  I have got to get my nail shit together!
Anywho – for my graveyard nails, here is what I used:

From left to right: Zoya Dove, Zoya Hunter, Zoya Petra, QGirl 002 Plate, Essie Grow Stronger, Konad Black, HKGirl.
After a base of Grow Stronger, I added one coat of Dove.  As, again, my priorities were all screwed up, I forgot to take a picture of this.  Just assume it was as awesome.
Once that was dry, I used a make-up sponge to create a gradient with Hunter and Petra.  I had a small dish of water next to me, and made sure I kept the sponge really wet while I worked.  Here is how the gradient turned out: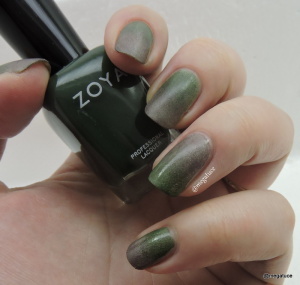 That is after I cleaned up a bit around the cuticles, but with no top coat.  That did not take long to dry, and once it was, I went to work stamping the graveyard.  I'll tell you what, that plate was tough to work with.  I got it done, but had to play around with which direction to swipe, the pressure I used, and the angle I worked at.  It took a bit, but I made it work.  I had to be really careful to line the stamp up on my nail as well.  Here's how it turned out: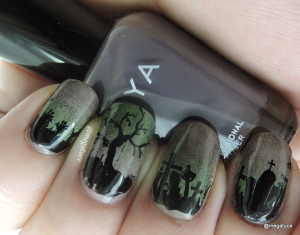 The design is topped off with one coat of HKGirl.
I really like how these turned out.  I may keep them tonight.  Maybe.  What I really need to do is work on version 3.0 of my lightbox tonight so that I can eliminate the damn glare in my pictures.  We'll see…
Thanks for stopping by!  Come back soon to see if I ever get around to improving my lightbox and what nonsense I come up with next.