I have been so excited to really start digging into my fall and Halloween manis!  Here is what I came up with today: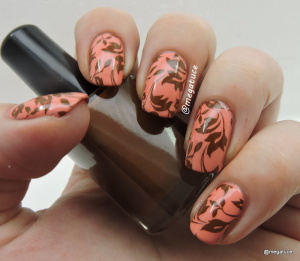 This month, I will be following along with #BHBSpooktober!  I have wanted to do a month-long mani challenge, but have not gotten around to it yet, so this is the perfect opportunity!  Here is what is on the calendar: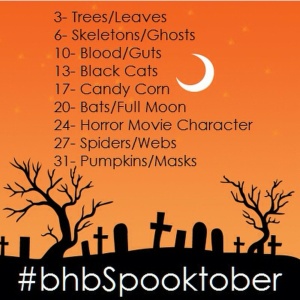 I am a day early, but I was hit with inspiration tonight, and did not want to let it pass by!  Again, it was my daughter's attire.  At 11mo old, she is quite the snappy dresser.  Very curious as to how she looks so snazzy, but her mom needs a wardrobe update!
Anywho…here's what I used tonight: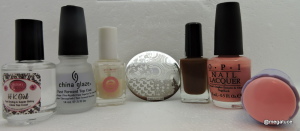 From left to right: HKGirl, China Glaze quick dry, Essie Grow Stronger, Pueen 55, Mundo de Unas Brown, OPI Sorry I'm Fizzy Today, and my marshmallow stamper.
Per the usual, I started with a base coat of Grow Stronger, then two coats of Sorry I'm Fizzy Today, followed by one coat of the quick dry.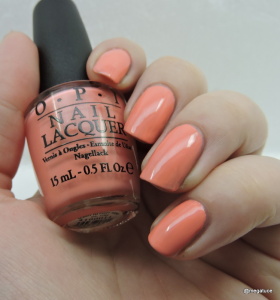 Once everything was nice and dry, I went in and stamped leaves with the MdU Brown and Pueen 55.  I have been using the Pueen Buffet plates a lot more recently.  Not sure why, but it is always fun to change things up!
Here is what I ended up with: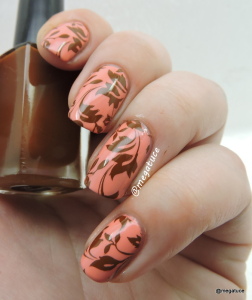 I am quite happy with how these turned out!  I'd say I would keep them on for more than a day, but who am I trying to kid?
Thanks for stopping by, and have a great night!