It has been way too long since I've hosted a giveaway, so let's fix that!  It is time for the #NoTricksMegaTreats giveaway!  For this one, I am teaming up with the creator of my new obsession: Naturally Blessed by Bedhead Farm!  They have some really amazing products, so I want to share the awesomeness with my followers along with, of course, some polish!  Here's the prize: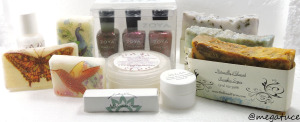 The winner gets all three Zoya Ultra Pixie Dust polishes (Oswin, Arianna, and Noir) and products from Naturally Blessed, including cuticle oil, lip balm, lotion, and soaps!
Naturally Blessed's website!                  Naturally Blessed on Facebook!
How to enter: Hop on over to my IG to enter!  All you need to do is follow me and repost the picture with #NoTricksMegaTreats.  Want an extra entry??  Head on over to Naturally Blessed's Facebook page and give them a like, then comment on YOUR reposted pic with what product you think sounds the most amazing!
Giveaway ends on 10/31/14 sometime after trick-or-treating!
Rules:
Must be 18 or older
U.S. and Canada only
Drama gets you disqualified
No giveaway accounts
Your profile must be public so I can count your entry
Unfollowing after the giveaway disqualifies you from future giveaways (Too bad for those that unfollowed after the last one!)
Maximum of two entries per person
Winner will be drawn randomly and will have 24hrs to DM me their shipping info or a new winner will be chosen.