It is terribly hard for me to narrow down my favorite brands, but the mainstream brands coming out on top are OPI and Zoya.  I have more of both than any one girl really needs, but the formulas are usually good and the colors so pretty, so can you really blame me?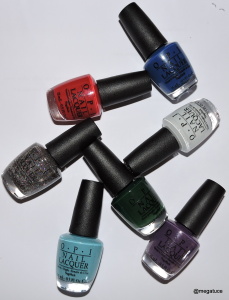 OPI was my first love.  It has been my go-to brand for more than a decade.  The formula is consistently good and is generally opaque within two coats.
Zoya is my new obsession.  I find that the formula can vary in their polishes, but they are generally easy to work with.  They are free of the major toxins, which is always a good thing.  Plus, they regularly have pretty good sales, which is ALWAYS a good thing!
My current favorite indies are KBShimmer and piCture pOlish.
piCture pOlish is an Australian brand, but in the U.S., you can buy from Llarowe or Color4Nails.  I have a handful of PP's polishes, and they all have nice formulas.  I am eyeing up some polishes they recently added to their line, though, so keep an eye out for those to inevitably show up on my blog!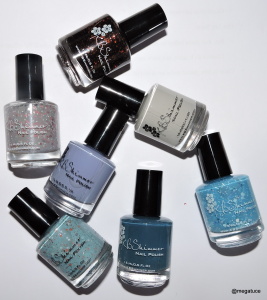 KBShimmer is a newer obsession.  I purchased a crelly a few months ago and was very happy with it.  But it was with the release of her latest line that I was really hooked.  The colors are perfect for fall and are very easy to work with.  If you are looking to dive into indies, KBShimmer is a perfect place to start (and stay!).
I am an absolute sucker for Moyou London stamping plates.  Their designs are gorgeous and etched deeply, which makes them easy to work with for novices and pros alike.  I generally stick to the mural and XL plates, since I have giant lumberjack nails.  But they have some many beautiful and varied designs, you can get lost in their page for hours.  I usually opt to buy enough to qualify for free shipping, and receive my plates in a week or two.
My current favorite stamper is from Messy Mansion.  I ordered the colored marshmallow heads which quickly replaced my Wistonia XL as my favorite stamper.  They are easy for me to work with and are very squishy.  I find that the squishier the better for my nails, as they are quick curvy.  The heads are more delicate than my Wistonia's, but they are not difficult to store and do not require priming.  Messy Mansion even has adorable little tins that come with some of the heads for storage.  Messy Mansion also offers stamping plates, but I have not yet tried them.  I just received my first few plates, and am very excited to try them out!  And, I must note that Messy Mansion has WONDERFUL customer service.  I have placed two orders with them, and will not hesitate to place many more.
Stamping polishes gets to be a tricky area, in my opinion.  I have polishes that are "stamping polishes," but they are not necessary to create beautiful designs.  Many of the OPI crèmes, Seche crèmes, Butter London crèmes, and Color Club holos stamp extraordinarily well.  I have also had good luck with some of the Fresh Paint polishes, which are very inexpensive and can be bought at Five Below.  I'll try to create a page soon with some of the polishes I have found to work well for stamping.
As far as dedicated stamping polishes go, I have been happy with each line I have tried so far.  My first purchases were Konad white and black, which I bought on Amazon.  These were solid purchases.  They consistently provide crisp and opaque stamps.  I have yet to find a regular white or black polishes that stamps as cleanly.
The second brand I tried was Rica.  She sells more than just stamping polishes, but I have only tried her stamping polishes and top coat so far.  I have been happy with the polishes I have from her line.  Most of the ones I have are pastel, and they stamp well over dark colors, which is a huge plus for me.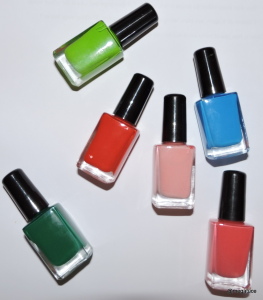 The final brand I have ventured into (so far) is Mundo de Unas.  MdU is based out of Mexico, so shipping can take a little longer, but the polishes are worth the wait.  They stamp well, providing opaque images with little effort.  She has pictures for easy reference as to which colors stamp well over a dark base.
So, these are some of my current favorites.  Let me know what you like — I'm always up for trying something new!