Tonight's mani started out just awful.  I couldn't decide what I wanted to do.  Then I decided I was going to do blue, pink, and white with a particular plate.  I tested, and it looked great on my nail wheel.  Tried it on my fingers and it was a total fail.  I should have taken pictures, but I was just so. damn. frustrated.  I picked through my plates and finally decided to go simple with blue and white, and it actually turned out really well.  I'm so happy about it, because when I start out so rough, I almost always end up with forced muck.  So, without further ado, here's what I ended up using for this mani: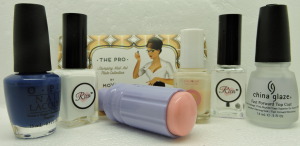 From left to right: OPI Keeping Suzi at Bay, Rica Whiteout, Moyou Pro 23, Messy Mansion marshmallow stamper, Essie Grow Stronger, Rica Glossy Glam, and China Glaze quick dry.
Started with Essie, then two coats of OPI Keeping Suzi at Bay.  I have been dreaming of picking up this color since @ineedamani used it a few weeks ago (are you following @ineedamani?  If not, you totally should be!).  I just picked it up from 365nailart.com, for cheaper than I could find at any local store.  It is such a pretty blue!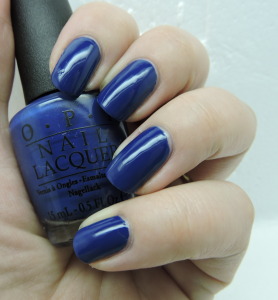 This is two coats with one coat of China Glaze quick dry.  Confession: I totally knicked my index finger on my camera.  I am OCD (seriously, my mother had me tested)  (<——anyone?  reference?!?  Five magical internet points and a megatuce high five if you did!), so I ended up redoing that finger.
Once that dried, I stamped.  It was a pretty straight forward one tonight.  I used Rica Whiteout.  I was so-so on this color at first, but the more I use it, the more I really like it.  And, bonus, when I clean-up, it does not leave the gross chalky look like some white polishes do.  Here is what I ended up with: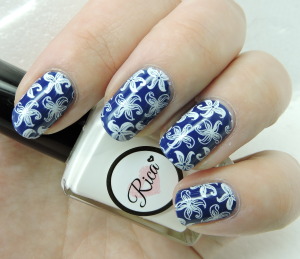 I am quite pleased with how this turned out!  Maybe I'll even leave it on for more than on day.  Maybe.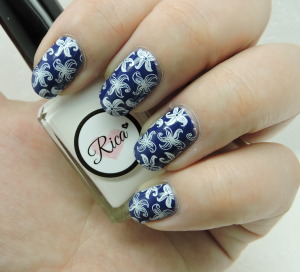 Thanks for stopping by, and I hope you keep checking in!