Hi there!  Tonight I bring you a mani almost completely comprised of polishes from my upcoming line M Polish.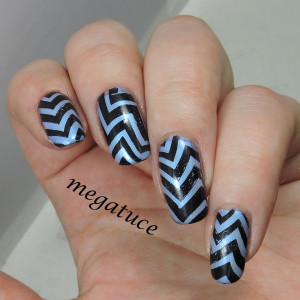 I needed something a that was fun, so I went for some crazy zig zags.  For this mani, I used: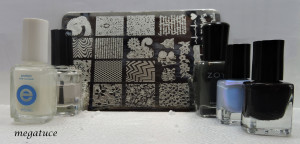 From left to right: Essie Protein Base, Seche top coat, Bunny Nails BuNa B, Zoya Noot, M Polish blue and black (final names to be determined).
I started with Protein Base and two coats of Noot: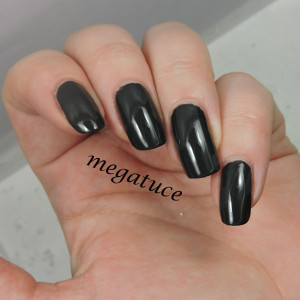 It is a nice dark creme, perfect for some art or, in this case, a topper!  I added two coats of the blue: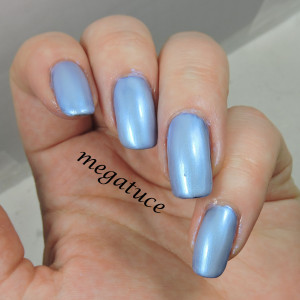 This blue looks amazing when it is painted or stamped over dark colors, but is very sheer on its own or over light colors.  And, yes, I know the clean-up here is a mess.  I was rushing and knew I was going to stamp over it.  So, basically, I was too lazy to do a perfect clean-up knowing I was going to have to do it again.
I used BuNa B to stamp some crazy zig zags: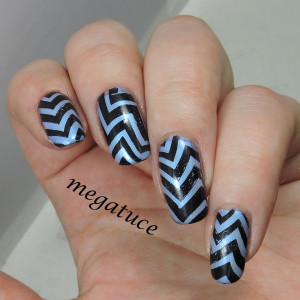 It is topped with one coat of Seche here.  I changed the placement of the stamp a bit for each nail.  I really like nails that aren't exactly the same.  That is, in part, because I'm terrible at making them all perfectly the same.  But, I also like the slight variation that it gives.
I hope you are all as excited for M Polish's release as I am.  If you want to see more swatches and keep up to date on the release, don't forget to follow @mpolishes on Instagram!
Thanks for stopping by!